A cataract is a clouding of the natural lens inside the eye. Normally, light rays are focused through your lens and onto the retina. Over time, the lens can become cloudy and prevent light rays from passing clearly. The result is that the images on the retina appear blurry or distorted. When the lens gets cloudy enough to obstruct vision to any significant degree, it is called a cataract. Cataracts generally develop slowly and painlessly. In fact, you may not even realize that your vision is changing. Once a cataract develops, neither glasses, contact lenses, diet, or laser treatment can sharpen your vision or make the cataract go away. The only way to remove is a cataract is with surgery. Over the years, there have been numerous advances in the technology for removing cataracts. These improvements have made cataract surgery one of the safest procedures performed today, and the recovery time significantly shorter. Millions of people undergo this vision-improving procedure every year and they have excellent results. During your free Cataract consultation, you can discuss with Dr. Linda Vu about which type of intraocular lens best suits you.
What Causes Cataracts?
The most common cause of cataracts is aging. Other causes include trauma, medications such as steroids, systemic diseases such as diabetes, and prolonged exposure to ultraviolet light. Occasionally, babies are born with cataracts.
Preventative Measures
Reducing the amount of ultraviolet light exposure by wearing a wide-brim hat and sunglasses may reduce your risk for developing a cataract. However, once it starts developing, there is no cure except to have the cataract surgically removed. The best time to have your cataract removed is when your vision is bad enough that it starts interfering with your lifestyle. Additionally, when a patient suffers from a separate medical condition that can affect their eyes (e.g. Diabetes), the removal of the cataract is often necessary in order for doctors to prevent, diagnose, or treat any damage inside the eye.
Cataract Symptoms
The common symptom of cataract formation is a slow, progressive, and painless decrease in vision. Often, vision with cataracts has been described as seeing life through an old, cloudy film. Patients will notice that the use of glasses will not reverse the effects of their cataract.
Signs of Cataracts
– Difficulty driving
– Difficulty seeing at night
– Difficulty viewing a computer screen
– Colors appear dim and faded
– Frequent change in glasses prescription
– Blurry, double, or distorted vision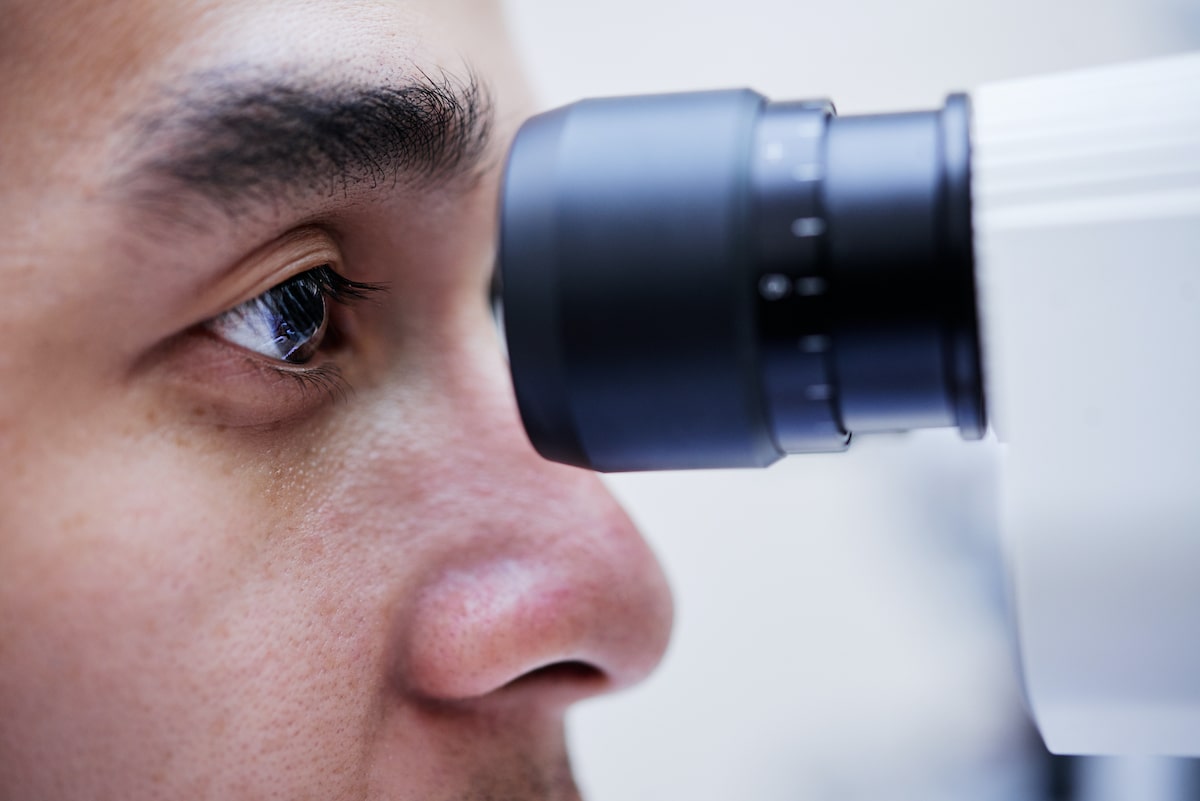 Surgery Procedure
Cataract surgery is usually performed one eye at a time and takes less than 30 minutes to complete.
a. First, a small incision is made on the upper part of the eye.
b. Then, the old, cloudy lens is removed.
c. The new intraocular lens is implanted.
Choosing the Right Lens Implant
Once you have decided to have cataract surgery, Dr. Linda Vu will work with you to help choose the intraocular lens (IOL) that will be placed in your eye during the procedure. There are 2 basic types of IOLs – each designed to correct vision at a specific visual range. Monofocal lenses only correct vision at one portion of your visual range (typically distance vision), while multifocal lenses are designed to correct a full range of vision – near, far, and everywhere in between.
In the past, the more common replacement IOL was a monofocal lens. This type of lens restored good functional distance vision, but people still needed to continue wearing reading glasses. However, science has made great leaps of progress and now there are several breakthrough multifocal lenses that have been FDA-approved for correction of both distance and reading vision – Crystalens, Tecnis Multifocal, and ReSTOR. Each type works differently, and should chosen according to your individual needs. Dr. Linda Vu has extensive experience with all the lenses and helps each patient make an unbiased, informed decision on an implant that will provide a lifetime of clear vision.
Cirugía de cataratas
Una catarata es una opacidad del lente natural dentro del ojo. Con el tiempo, el lente se puede nublar y evitar que los rayos de luz pasen claramente. Cuando el lente se hace lo suficiente nublado para obstruir la visión a un grado significativo, se le llama una catarata. Las cataratas generalmente se desarrollan lentamente y sin dolor. Una vez que se desarrolla una catarata, ni los anteojos, lentes de contacto, dieta, o tratamiento con láser pueden agudizar su visión o hacer que se desaparezca la catarata. La única forma de eliminar una catarata es con cirugía. A través de los años, se han producido numerosos avances en la tecnología para la eliminación de cataratas. Estos avances han hecho la cirugía de catarata uno de los procedimientos más seguros realizados hoy en día, y el tiempo de recuperación significativamente más corto. Millones de personas se someten a este procedimiento que mejora la visión cada año y tienen resultados excelentes. Durante su consulta gratis de Catarata, puede hablar con la Dra. Linda Vu acerca de qué tipo de lente intraocular mejor se adapte a usted.
Los Síntomas de Cataratas
El síntoma común de la formación de cataratas es una disminución lenta, progresiva, e indolora de la visión. A menudo, la visión con cataratas ha sido descrita como ver la vida a través de una neblina opaca. Los pacientes se darán cuenta que el uso anteojos no reversa los efectos de la catarata. Algunos signos de catarata incluyen:
– Dificultad para manejar
– Dificultad para ver de noche
– Dificultad para ver una pantalla de computadora
– Los colores aparecen tenue y descoloridos
– El cambio frecuente en la prescripción de anteojos
– Visión borrosa, doble, o distorsionada
Eligiendo el Implante de Lente Correcto
Una vez que haya decidido someterse a cirugía de catarata, la Dra. Linda Vu trabajará con usted para ayudarle a elegir el lente intraocular (IOL) que se colocara en el ojo durante el procedimiento. Hay 2 tipos básicos de lentes intraoculares – cada uno diseñado para corregir la visión a un alcance visual específico. Lentes monofocales solamente corrigen visión en una parte de su campo visual (generalmente visión a distancia), mientras que los lentes multifocales están diseñados para corregir un campo completo de visión – cerca, lejos, y todo intermedio. La ciencia ha dado grandes saltos de progreso y ahora hay varios lentes multifocales revolucionarios que han sido aprobados por el FDA para la corrección de la visión a la distancia y de cerca. La Dra. Linda Vu tiene una amplia experiencia con todos los lentes y le ayuda a cada paciente a tomar una decisión informada sobre que implante de lente debe elegir.
白內障
白內障是眼球的透明晶狀體出現混濁的現象。隨著長年累月,水晶體可會變得混濁,導致光線不能在眼球內清晰傳遞。當混濁的水晶體達到顯著妨礙視力的程度,這稱為白內障。白內障一般發展緩慢,無痛症狀。一旦白內障發展,無論是眼鏡、隱形眼鏡、飲食、或激光治療也無法提高您的視力或令白內障消失。去除白內障的唯一方法是動手術。去除白內障的科技日漸進步,白內障手術現今已成為很安全的程序。手術後復原時間亦顯著更短。每年以百萬計的人接受這種視覺程序,並且有極好的效果。在您的白內障免費諮詢,您可與傅白蘭醫生討論合適您的人工晶體鏡片。
白內障症狀
緩慢、漸進、無痛的視力下降是一個常見的白內障發展症狀。白內障患者常形容視力如同從一張舊而混濁的膠片中看東西。使用眼鏡是不會改善白內障對您的影響。一些白內障的跡象包括: – 駕駛困難 – 晚上看東西困難 – 觀看電腦屏幕困難 – 顏色顯得暗淡褪色 – 眼鏡處方度數變化頻繁 – 視力模糊,雙重影像,或視力扭曲
選配合適的人工晶體鏡片
若您決定接受白內障手術,傅白蘭醫生將幫助您選配人工晶體(IOL)。這人工晶體將被植入眼睛代替您眼裡已混濁的晶體。人工晶體有兩個基本類型。每類設計在一個特定視覺範圍來糾正視力。傳統單焦距晶體鏡片只糾正您視覺範圍的一個部分(通常遠距離)。光學多焦人工晶體鏡片則可糾正全方位視野,提供由遠至近的聚焦能力。隨著科學技術的進步,現有數個突破性的多焦點人工晶體已被FDA批准用於矯正距離和閱讀視力。傅白蘭醫生對白內障手術擁有豐富經驗,幫助每個病人作出明智的人工晶體選擇。